Why You Should Upgrade Your CCTV System
Written on the 2 October 2018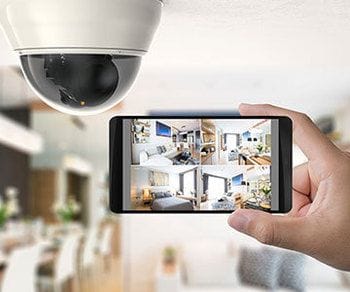 It has become a normality for many Australians to install CCTV system as a security measure, either for their homes or business premises. However, in today's fast moving world, many individuals or business owners struggle to keep pace with the growing technology. That is why some CCTV systems are outdated, due to misconception and misunderstanding about the upgrading process. If you already have CCTV system installed, upgrading should in fact be considered first when it comes to bolstering your security.
Internet protocol (IP) based systems have been introduced moving away from the 'traditional' CCTV Surveillance. If you are yet to use the IP-based CCTV systems, there some benefits of using IP cameras that you should consider for your home or business.
Benefits of upgrading your CCTV system:
1. Easy Installation:
A common misconception is that installation based on Network Attached Storage (NAS) - for IP Cameras - is much more complicated than those based on Digital Video Recorder (DVR). While this may be true in the past, manufacturers have recently introduced features such as plug-and-play universal camera recognition to allow Network Video Recorder (NVR) installations as easy as possible. In addition, manufacturers have designed new breed of IP cameras, with ease of installation as a key feature.
2. Utilise Existing Infrastructure:
Since many companies or houses already have an analog system (your traditional CCTV system) in place and want to maximize existing investments, manufacturers of IP cameras have created solutions such as encoders to support hybrid environments - as analog/DVR components start to reach the end of their useful life. Users can change the parts one at a time to start updating the IP camera and NVR installation. This technology maximizes your initial investment and gives flexibility
to update your video surveillance over time.

3. Value for Money:
Another misunderstanding is that the IP camera and NVR deployments are prohibitive. A DVR can be cheaper than the NVR, but be aware that NVR is not a one-trick pony. NVR is not only able to cope with the demands of your video surveillance system but can function as a base for general storage. As IP cameras prices continue to drop, HD cameras offer significantly enhanced capabilities.

4. Flexibility:
To start adding cameras to the current video surveillance / CCTV system, moving to or adding IP camera is the most reasonable choice. IP cameras can be attached to an installation using existing analog cameras, which allows easy integration to the current HD standard instead of hanging on to the old solutions of yesterday.
5. Reliability/Durability:
IP video surveillance and the NAS-based system are proven to be faster, more reliable and durable than the old CCTV systems that use DVRs and analog cameras. Considering all the inherent advantages of the NVRs with professional hard drives and RAID data management, transition to NVRs with IP cameras is even more logical.
6. Management Capacity:
The ability to access and view video files from anywhere in the world through mobile applications and external cloud (Internet-based) is the obvious benefit of IP cameras or IP-based video surveillance storage solution.

7. Quality Resolution:
All analog video cameras use a standard analog NTSC video which was created in the fifties - the limit on image resolution is absolute and cannot be avoided. On the other hand, IP cameras are available in a wide range of resolutions (in megapixels, or MP) that can be selected according to their specific needs. For example, a 1.3 MP IP camera is almost four times the resolution of analog cameras. With higher resolution added, the faces become clearer, the plates are easier to read, and larger areas can be covered with one camera.