HIKVISION ENTRY LEVEL HILOOK 4 X 2MP SECURITY CAMERA PACKAGE
NOW $1156.00 EXC GST FULLY INSTALLED*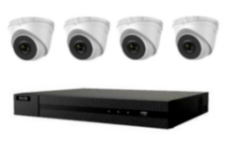 Description
This 4 HD 2MP camera package comprises of state-of-the-art gear to deter burglaries from your home or business.

This 4 channel NVR system is capable of monitoring & recording video from up-to 4x 8MP HD Security Cameras. With State-of-the-art EXIR night vision you'll never miss a moment. This system is capable of monitoring your home while you are away.

Set and forget allows you to continuously record video footage from up-to 4 HD security cameras for 20-30 days+ onto a 1TB hard drive, even longer with motion detection. When the recorder becomes full, it intelligently overwrites the oldest video footage.

Save valuable hard drive space by enabling motion detection on this security system. When enabled, the recording is only triggered when there is movement detected in front of the camera.

See what's happening live on your iPhone, iPad & Android devices. Any time of the day or night simple open our free app to access your camera system securely from anywhere in the world for easy peace-of-mind.

View live video & playback on your iPhone, iPad & Android at 1080P resolution. The way its meant to be watched.
* Pricing subject to site visit