HIKVISION 4 X 8MP CAMERA PACKAGE
NOW $2482.65 EXCL GST FULLY INSTALLED*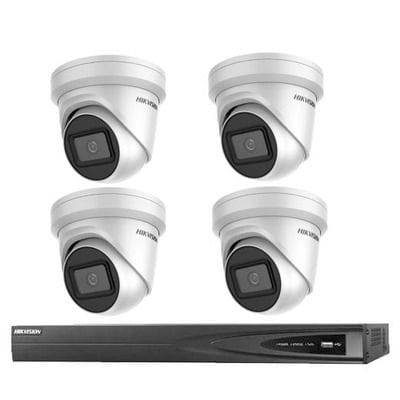 Description
This 8 x 1080P 4KHD 8MP camera package comprises of Hikvision's AcuSense Technology. This technology has the ability to distinguish people and vehicles from other moving objects, such as falling leaves or small animals. While originally created with the purpose of preventing false alarms, AcuSense Technology offers users several other key benefits.

a device will only trigger an alarm when the preset intrusion type (human or vehicle) takes place
videos related to alarm events are sorted into human and vehicle categories for easier footage searches and to improve search efficiency
This 4 channel NVR system is capable of monitoring & recording video from up-to 4x 8MP 1080P 4K Security Cameras. With State-of-the-art Darkfighter night vision you'll never miss a moment. This system is capable of monitoring your home while you are away.

Set and forget allows you to continuously record video footage from up-to 4 8MP 1080P 4K security cameras for 20-30 days+ onto a 3TB hard drive, even longer with both motion and line detection. When the recorder becomes full, it intelligently overwrites the oldest video footage.
See what's happening live on your iPhone, iPad or Android devices. Any time of the day or night simple open our free app to access your camera system securely from anywhere in the world for easy peace-of-mind.

View live video & playback on your iPhone, iPad & Android at 1080P resolution. The way it's meant to be watched.
* Pricing subject to site visit